This a cool blue Ballerina costume.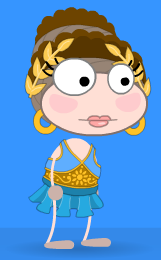 This is how to get it.
Hair: Icarus costume, or a non member alternative, the Prom Queen hair. (75 credits.)
Top: Blue Prom Queen top. (75 credits.)
Skirt: The skirt from the princess on Poptropicon: Line forms Here.
Earrings: Icarus costume (members only.)
Lips: The New You shop.
Ad blocker interference detected!
Wikia is a free-to-use site that makes money from advertising. We have a modified experience for viewers using ad blockers

Wikia is not accessible if you've made further modifications. Remove the custom ad blocker rule(s) and the page will load as expected.