This outfit just feels like someone very calm and collected would wear, with a faded warm color scheme and no attention brought to just one aspect of it. It is a free outfit and costs no credits.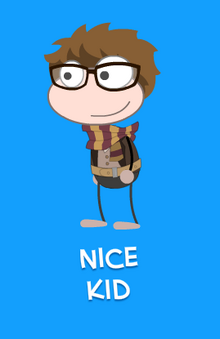 Hair-
The man in the basement of the office building in Mocktropica Island that is knocked down the stairs when you enter.
Top- Unknown, but can be customized from the account blossmia.
Bottoms- From the man in the brown coat (the former child star) in Queequeg's Coffee Shop on Back Lot Island.
Mouth- From many Poptropicans in common rooms or randomized Poptropicans.
Glasses- From random Poptropicans or the "New You" shop on Home Island.
Scarf- From the "In the Now" shop on Night Watch Island. It is on one of the mannequins.
Ad blocker interference detected!
Wikia is a free-to-use site that makes money from advertising. We have a modified experience for viewers using ad blockers

Wikia is not accessible if you've made further modifications. Remove the custom ad blocker rule(s) and the page will load as expected.