If you look up how to make a schoolgirl outfit, chances are you will probably get either an anime-inspired look or a sailor-type outfit with a short skirt. But, what if you want to just dress up like a normal girl would? Read on to find out how!
Hair, Skin, & Cosmetics
Edit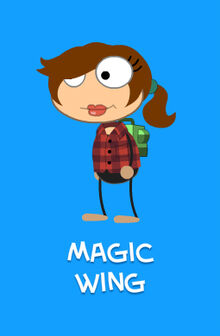 Hair: Use the ponytail with a dark green band on it, randomized through the New You shop at home.
Bangs: The lower bangs are from the same randomizer. The upper bangs are from the boy representing the Wildfire tribe on Poptropolis.
Hair Color: Anything natural works, but to name my top five in no order, I'd go with brown, blonde, auburn, black, or dirty blonde.
Skin Tone: Anything natural works here! I've chosen a tan peach for my character here.
Mouth: You can use either relatively neutral-colored lips or a normal smile. I used the Biker ones here.
Top: Any shirt works as long as it doesn't jut out from your character and has a low neckline.
Bottom: Find some black pants for black leggings in the closet of misshipster123pop.
Accessories
Edit
Overshirt: Do the ASG glitch with KBR_FallFashionASG and save his outfit, then switch back to your normal character and customize the plaid shirt.
Bakcpack: The green backpack is from the Fall Fashion 1 outfit from the store.
There you have it!
Ad blocker interference detected!
Wikia is a free-to-use site that makes money from advertising. We have a modified experience for viewers using ad blockers

Wikia is not accessible if you've made further modifications. Remove the custom ad blocker rule(s) and the page will load as expected.