Today, Quiet Flipper is getting a makeover.

First of all, we need to fix her skin and hair colors.
We can do that by going to the New You shop, and making her skin peach and her hair brown.
Next, we need to fix her hair.
How about putting it into a nice braid?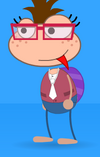 After that, we need to fix her lips and cheeks.
We can put blush and lipstick!
Then we'll need to fix her clothing, and put on a nice shirt and skirt.
Finally, we need to adjust her accessories!
We'll put on a nice pair of red glasses!
Finished!

Ad blocker interference detected!
Wikia is a free-to-use site that makes money from advertising. We have a modified experience for viewers using ad blockers

Wikia is not accessible if you've made further modifications. Remove the custom ad blocker rule(s) and the page will load as expected.