Today, the first guy is getting a complete makeover. Let's start by explaining what is wrong.
What is Wrong?
Edit

You can keep the beard.
Hair Color
Edit
Yuck, that puke green hair is disgusting! That has to go!
Hairstyle
Edit
It looks like he set fire to his hair.
Rotten buckteeth are very ugly. His teeth are going out the window.
That outfit looks like a fashion disaster. The colors don't match and the pants are girly!
Skin Color
Edit
It looks like he is matching his skin with his shirt. That is a big no-no.
How to Fix:
Edit
As you can see, He has five crucial things that make him ugly, but the beard is not ugly. However, we can easily change all of that! We will tell you how you can change his style step by step.
The beard is not bad.
Hair Color
Edit
Let's start by changing that nasty hair color, because the beard is not bad. Go to the New You shop. Go left until you see the Colorizer. Change his hair to blonde.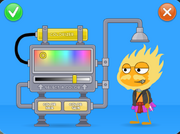 Hairstyle
Edit
The next thing that has to go is his weird hairdo. Go to Night Watch Island. Go right until you see a man wearing green glasses and a green jacket. Costumize his hair.
Rotten buckteeth are ugly and easy to make fun of. He would look much better without rotten buckteeth. Go to Back Lot Island. Go left until you find a guy wearing all black. Costumize his mouth.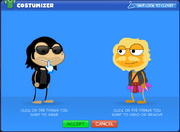 Go to Escape From Pelican Rock. Go left until you see a muscle man. Costumize his pants. Go to Monkey Wrench Island, where you have to complete a good portion of the island before meeting Crusoe. Costumize his shirt/jacket and remove the extra clothes. Complete Monkey Wrench Island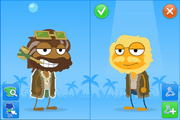 Skin Color
Edit
Finally, that ugly orange skin looks ugly. Go to the New You shop, go left until you find the colorizer. Change your skin color to tan.
Log into the Poptropica account for his complete makeover. Make sure you are on a non-SUI (non sound updated island).
Open the Poptropica Avatar Studio in another tab.
Type makeover_guy in the username box.
Refresh Poptropica. If a message appears, do not hit retry, hit cancel. Press 'Load' a bunch of times on the Avatar Studio tab, then go back to the Poptropica tab and you'll be prompted to save a new account with the cloned costume. Note that this will replace your current costume with that of the user you typed in.
Give your costume a complete makeover.
Ad blocker interference detected!
Wikia is a free-to-use site that makes money from advertising. We have a modified experience for viewers using ad blockers

Wikia is not accessible if you've made further modifications. Remove the custom ad blocker rule(s) and the page will load as expected.