Hello, and today we are here with Presley to see if we can change up her - odd - look! Do not worry, it's possible with a little know-how and five minutes of time! As a bonus, everything here is from Home Island! Let's get into it!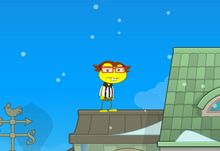 Step One: What's Wrong?
Oh, dear. Presley is having a bit of trouble with her outfit today. Here is what she should fix.
Hair: There are no bangs? Without bangs her current style just looks flat.
Glasses: The color does not match.
Mouth: Ah, buckteeth aren't the best choice. Best to opt for something more neutral.
Skin Tone: That Simpson yellow is a bit blinding!
Outfit: I suppose it's not bad, but it could be better. The colors are bland.
Step Two: Save that Skin!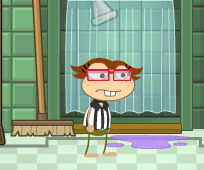 Electric yellow is not a good choice for a skin color! I adjusted Presley's tone to a muted peachy hue. You can do this with the CTRL+SHIFT+S command, use a pigment from Early Poptropica, or use the Colorizer in your inventory or at "New You" at Home.
Step Three: Lipstick Makeover!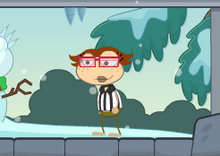 Presley's buckteeth were a big issue, so I opted for these neutral dark lips from the woman right outside the "New You" shop at Home. Major improvement!
Step Four: Hair Salon!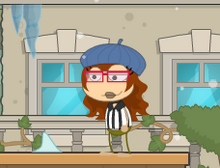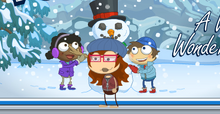 At this point Presley's short hair is looking a tad drab. Why don't we switch it up a bit for a fresh new style? Go into the "New You" and crank the lever for a stylish wavy 'do! So much improvement!
Step Five: Style those Bangs!
Presley needs some bangs, and my favourite would be the hat/bangs combo on the photographer on the east half of the island. Snazzy!
Step Six: Bundle Up!
Now we costumize the outfit! Keep it simple with the shirt/hoodie combo and red leggings, both from the girl in aviator gear near your blimp.
Step Seven: Accessorize!
Presley looks amazing! I'll just switch out her hot pink glasses for some blue ones that complement her hat, and there you go! A fabulous look that has transformed completely <3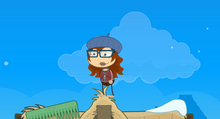 Ad blocker interference detected!
Wikia is a free-to-use site that makes money from advertising. We have a modified experience for viewers using ad blockers

Wikia is not accessible if you've made further modifications. Remove the custom ad blocker rule(s) and the page will load as expected.