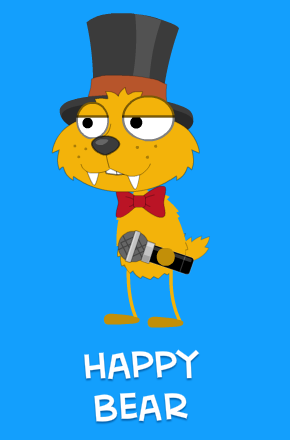 Well, this isn't the best character portrayal by any means, but it could make a nice little knock-off costume for Five Nights At Freddy's fans, especially if you're on your way to Poptropicon! Are you ready?
Buy the werewolf costume, wear only the muzzle and face fur
Go to Mythology Island, customize the shirt from the Minotaur and the pants/tail from any one of the many fauns
Find the tophat on the mayor of 24 Carrot Island and, while there, customize the mouth from Dr. Hare's brain-washed henchmen (before deactivating their rabbot helmets)
Customize the bowtie from the security guard standing outside the conference room in Poptropicon Episode 2: Spoiler Alert
Buy the rock singer costume, wear only the microphone
Color both your hair and skin either brown, yellow, or purple
Variations
Edit
You can change your skin/hair colors to simulate different Freddy models: brown for the original, yellow for Golden Freddy, and purple for Shadow Freddy.
The costume also looks nice when worn with the tophat included in the magician costume. (The sash matches the bowtie and the base color is a darker black)