Here's an outfit I made way back when I first played Ghost Story Island.
How to Get
Edit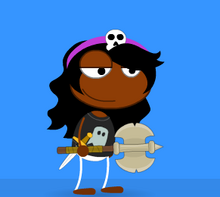 Hairband: It's in Early Poptropica. Customize the girl in the sewer.
Hair: It's optional to get the hairstyle I have, but anything works.
Smile: Found almost anywhere.
Shirt: It's seen in both Night Watch Island's main street and on Ghost Story Island.
Pants: I forgot where I found the pants, but if you look hard enough you can find it.
Ax and Sword: Handheld items like these are perfect for hunting. This is optional to add, however.
Ad blocker interference detected!
Wikia is a free-to-use site that makes money from advertising. We have a modified experience for viewers using ad blockers

Wikia is not accessible if you've made further modifications. Remove the custom ad blocker rule(s) and the page will load as expected.