Below are the steps on how to get the Goth/Dead Guy costume on poptropica
This is how you get the Goth/Dead dude costume in poptropica.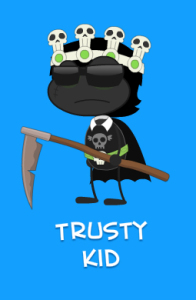 Get Hades' crown and belt from Mythology Island.
◾Get the scar and the scythe in his hand from the Haunted House.
◾Get his mouth to be frowning.
◾Change skin color to black (Early Poptropica pigments, Ctrl+Shift+S cheat, or Colorizer from the Store).
◾Add a black and pants.
◾The skull shirt is from the goth guy on Reality TV Island's Main Street.
◾The shades are from the secretary in Spy Island HQ.

If you follow all of these steps you should get your poptropican to look like this :
Ad blocker interference detected!
Wikia is a free-to-use site that makes money from advertising. We have a modified experience for viewers using ad blockers

Wikia is not accessible if you've made further modifications. Remove the custom ad blocker rule(s) and the page will load as expected.