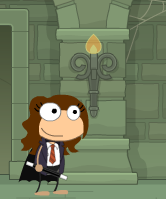 Hermione Granger


What You Need
Cost
75
Hat
None
Hair
Wavy,

Brown

Top
White Shirt w/ Tie,

Black Jacket

Bottoms
Black Pants
Skin Tone
Peach
Lips
Doesn't Matter
Other Accesories
Cape,

Wand
Hermione Granger is the best friend of Harry Potter in the Harry Potter series by JK Rowling. If you are a fan of JK's works, than this outfit is just for you! Follow the steps below to dress as the intelligent witch!
How to Get:Edit
Hair:
Go to Night Watch island and run right until you reach the mall. Customize the girl in the tent's hair.
Find the bangs you like. I got mine from a Poptropican in a common room.
Dye your hair brown.
Clothes:
Go to Red Dragon island and run left until you meet the man by the Magic Tree House Store. Customize his shirt, pants and jacket.
Go to the Haunted House mini quest (it's from the store and it's free). You must complete the quest before entering The Goul's Gala. Customize the witches cape.
Mouth:
Costumize any mouth you want.
Skin:
Dye your skin a peach color.
Extras:
Get the Magician costume from the store and customize the wand.
You are now looking ready for another year at Hogwarts!