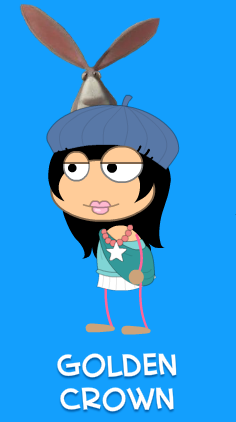 So, you're here for fashion huh? And you like my Outfit? Well, you, friend, have good taste! This outfit can be made by both members and non-members, but you must be prepared to buy a few things. Are you prepared? Yes? Then, let's begin.
(Also suggest you ignore the bunny. It won't let me remove it.)
Item ListEdit
You will need to buy:
-Fairy Queen (Pink) 75 Credits
-Pop Star (Pink) 75 Credits
How to getEdit
Blue Beanie - Go to Cryptids Island, and go to the right until you see the School Girl. Customize the Blue Beanie.
Hair (Bangs)- While still at Cryptids Island, talking to the School Girl, grab her bangs as well.
Hair (Back)- Go a little bit more to the left on Cryptids Island, and go to the girl in front of Kitty Kites. Customize the back of her hair.
Half Lidded Eyes - These are really common to find, but if you need an idea of a place to find them, there is a girl in front of the Museum of Olympus on Mythology Island who has them.
Lips - Go to the store, and Buy the Fairy Queen Outfit, turn it Pink, and Customize her lips.
Starfish Necklace - (Note: This part of the costume isn't necessary, but is truly a nice touch.) Go to Mythology Island, and Go to Poseidon's Temple. (If you don't know where this is, keep going to the right, and go up to Poseidon's temple with the help of the geyser beside Hades' Temple.) Go through the portal, and go to the end of the beach. Talk to Triton, (He has his name on his surfboard.) and customize his necklace.
Teal Shirt with Sash - Go to Mythology Island, and go to the left, to the Museum of Olympus. There will be a girl out front with Blonde Hair and a Teal Toga. Customize only the shirt and sash of the Toga.
White skirt with Pink Leggings - Go to the store, and Buy the Pop Star Outfit, turn it Pink, and Customize the Skirt with the Leggings.
If you've gotten all of the things listed, your outfit is complete! Have fun with your new look!
Ad blocker interference detected!
Wikia is a free-to-use site that makes money from advertising. We have a modified experience for viewers using ad blockers

Wikia is not accessible if you've made further modifications. Remove the custom ad blocker rule(s) and the page will load as expected.