Do you Like The series of Greek Gods and Goddeses By Rick Riordan and want to look just like Percy Jackson? Here's How to!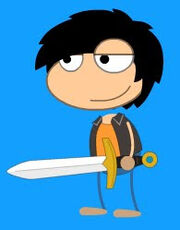 How To Get
Edit
1. Get the Bangs From one of the Contestants in Poptropolis Games Island (P.S If you don't get the guy with the bangs. Keep Logging in and Out into your game until you see the Bangs)
 2. Get The hair From The Mythology Surfer In the Store For 75 Credits
 3. Get the mouth from a random Poptropican
4. Get the Pants from a Random Poptropican
5. Get The shirt From The Rockstar 2 Costume
6. Get the Jacket From A random Poptropican
7. Get the Sword from the Rusty Relic item card from Legendary Sword
Ad blocker interference detected!
Wikia is a free-to-use site that makes money from advertising. We have a modified experience for viewers using ad blockers

Wikia is not accessible if you've made further modifications. Remove the custom ad blocker rule(s) and the page will load as expected.