So, if you have ever seen 'Nightmare Before Christmas', this is Sally's costume.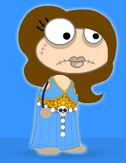 Hair: Vampire Girl 1. (75 credits.)
Bangs: Front Prom Queen bangs. (75 credits.)
Scar, Lips, and Belt: Bride of Frankenstein. (75 credits.)
Dress: Blue Prom Queen. (75 credits.)
(oh, don't forget to dye the hair royal blue and the skin light blue!)
Ad blocker interference detected!
Wikia is a free-to-use site that makes money from advertising. We have a modified experience for viewers using ad blockers

Wikia is not accessible if you've made further modifications. Remove the custom ad blocker rule(s) and the page will load as expected.