How to Get
Edit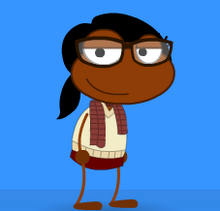 Hair: On Twisted Thicket, Customize the first girl you see.
Glasses: See above.
Smile: Found almost anywhere.
Shirt: On the girl near C.J's apartment on Shrink Ray Island (patched).
Skirt: See above.
If you want and know how to, you can also add a book handheld to complete the look.
Ad blocker interference detected!
Wikia is a free-to-use site that makes money from advertising. We have a modified experience for viewers using ad blockers

Wikia is not accessible if you've made further modifications. Remove the custom ad blocker rule(s) and the page will load as expected.