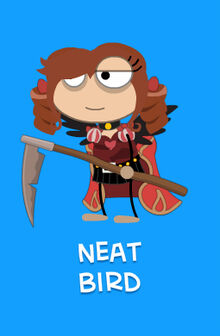 Sweet little curls and a creepy, yet whimsical, little dollish outfit to celebrate Poptropica's Halloween hype. Are you a fan of looking cute and deadly? Then this dress is perfect for the occasion! To be a creepy cute princess however, does take quite of bit of coins. With the help of Island of the Month and Spin to Win, it shouldn't be much of a problem to gain some money. It'll also cost a bit of time to finish the Haunted House quest in order to get the scythe item. If you're not interested in completing the quest for the item, you can always switch to alternatives or leave it out completely.
How to get it: Edit
Buy the "Creepy Dolly" outfit in the store. Customize the hair and the shirt.
Buy the "Captain Cobalt" outfit in the store. Customize the belt.
Add Neat_Bird to your friend's list. Customize the cape, makeup, bangs, choker, smile, and skirt.
Optional: Complete the Haunted House quest and customize the scythe. Can be completed through a walkthrough.
Creepy Dolly: 400 coins
Captain Cobalt: 200 coins
Total cost: 600 coins
This is a very flexible outfit. I recommend changing the acessories or makeup for different atmospheres and themes. Also if you see player Neat Bird in chat rooms, especially on Home Island, be sure to say hi!