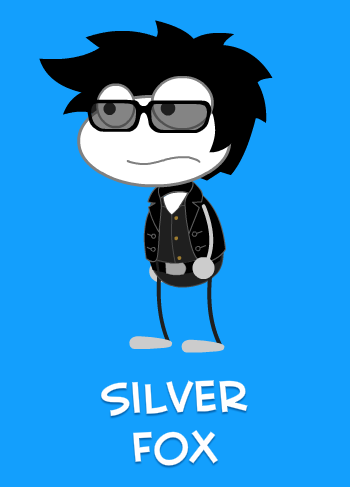 Who doesn't love a celebrity? If Nightmare Before Christmas is one of your favorite childhood films, then this is the look for you! Take a walk around Poptropica in Tim Burton's shoes! Who knows? You may get mistaken for him! This costume is very simple and easy to obtain but fun to show off to other Poptropicans!
Buy the Masked Hero outfit, customize only the shirt and pants
Buy the Rock Singer outfit, customize only the hair and jacket
Customize the sideburns and glasses from randomly generated Poptropicans, such as the ones in the main streets of Early Poptropica and Spy Island
Color your skin pale and dye your hair black
This outfit originally included a five o' clock shadow just like the various B.A.D agents you'll spot on Spy Island, which helped capture more of Burton's actual look. The five o' clock shadow was part of a costume given during an ad and was wearable despite most Poptropicans' facial hair not being customizable. Unfortunately, despite saving the accessory to the closet, it disappeared at some point, which has been the case of many of the more recent Poptropican ads that include prizes. It is currently unknown whether or not there is any way of obtaining it, whether it be through a customizable non-player character, a store-bought costume, or a game cheat.